I am a 20-year veteran of the Maritime music scene, with six solo albums of songs ranging from upbeat-shakers to bitter-sweet ballads - close to where John Mayer meets Jim Cuddy. I've earned multiple provincial and international awards, and have racked up more than 100,000 streams and video-views online. On the home-front I'm a live performer, trivia host, teacher, student, coach, board game enthusiast, and father of two budding musicians. Life is beautiful, and worth singing about!
I've never been good at telling my own story, partly because I've never really sat down down and considered those key experiences that have shaped my character (and my music). In a nutshell, however, I am a small-town boy from the province of New Brunswick, in eastern Canada. I've always chased big-city opportunities, but I am comfortable in my humble surroundings. Although I managed to complete a Masters in History, making music was always the priority, and my education always took a back seat. When it came time to decide whether to pursue either a PhD, or a music career, I chose the latter. Even when the mountain of student debt begs me to get a real job in my field, I've finally decided to pursue my musical craft without compromise.
Don't get me wrong; I am far from certain about my abilities, or the feasibility about such a career, and I have often come close to giving up. What I am sure about, however, is that if I stick with it long enough, I will eventually connect musically with others who find meaning in my songs about family, career, relationships, and those moments of joy, anxiety, and disappointment that give meaning to everyday life. And although my young son has stirred new feelings of responsibility, his innocence and unwavering love has recently compelled me to write, record, perform, and succeed as a singer-songwriter. More than anyone, I want Isaiah to be proud of me.
I've always believed in the power of music. More specifically I believe in the ability of this medium to communicate messages and feelings that might not get expressed otherwise. I was a quiet, sensitive kid, with two younger brothers who always seemed to get all the attention - positive or otherwise. I, on the other hand, was the oldest, the one my parents didn't seem to worry about as much. And it was true; although I didn't have as many new things as my friends did, I could dream up dramatic stories using toy soldiers and Lego - occupying myself for hours.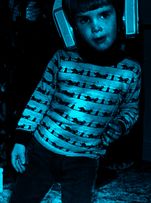 Early on I found myself drawn to the sentimental ballads of the 1950's and 60's. You know the songs: "Raindrops Keep Falling on My Head" by BJ Thomas or "The Wanderer" by Dion. It was the stuff you'd find on those bargain compilation cassettes, and played on my coveted dual-deck mini boom-box (a gift from my aunt). These songs, sugary as they were, opened my mind to the bittersweet yet soothing quality of words and music.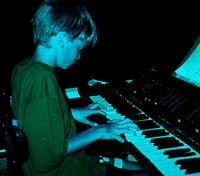 My tastes soon matured, and I was collecting albums from the best: The Beatles, Led Zeppelin, Bob Seger, Bruce Springsteen, and early U2. Then, around my fourteenth birthday, my stepfather bought me an acoustic guitar. I had always tinkered with the old piano at my grandmothers house, but now I could learn (or attempt to anyway) my favourite Rock songs.

High school can be tough on those kids who keep to themselves, which was me to a tee. Music, creative writing, and computer games kept me occupied, and off the popular radar. Sure, I had my friends, but I rarely went out of my way to expand my social circle. I guess it was that fact more than anything that set me up for such heartache after a  series of family deaths and messy break-ups prematurely wrenched me into the reality of adulthood. My music, however, kept me from going over the deep end, and it was during this same period when I began writing songs for myself - clumsily attempting to convey my feelings in the same way as did those old crooners that I grew up listening to.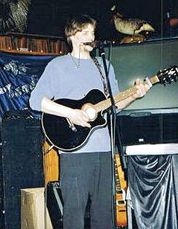 Fast forward to the present; I am a full-time entertainer and leader of a busy band, and with several CDs and awards to my credit. I am married to a wonderful and talented woman, and I've earned a Master's degree and other academic accolades. Most of all, my young son has become the inspiration of my life. If anything encourages, motivates, or inspires me to write and succeed at the fickle business of music, it is him. As I watch him grow and change every day before my eyes, there is only one way I know of to express my wonderment, my pride, my anxiety, and my joy - through my songs - Isaiah's songs - my beautiful boy....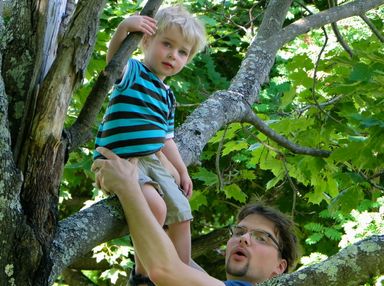 By 2010, Jared had released his first solo project, 'Waiting on You'. The EP features a short representation of his best material in addition to some new songs influenced by baby Isaiah, not to mention increasing lengths of time spent on the road. Nearly 600 copies have been sold to-date at shows and online. New infusions of talent within the band have also increased the levels of creativity, professionalism, and word-of-mouth, as the band breaks new ground in the live circuit. Among the latest highlights have been several CBC features, a spot on Breakfast Television, opening for Montreal's 'Les Respectables', and multiple showcases at East Coast Music Awards '11 in Charlottetown, PEI. Marie-Josée still lends her voice to the mix as often as possible - especially for major private events and the old public mainstays.